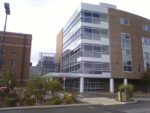 The number of patients being treated for coronavirus symptoms by the Butler Health System is holding steady.
According to officials, there are still 17 patients being treated at Butler Memorial Hospital—four of whom are in the intensive care unit. Officials also say that 10 of those patients have confirmed cases of COVID-19, and seven are suspected to have the virus.
Out of nearly 1,300 tests given at Butler Memorial Hospital a total of 55 have returned positive for the virus with results pending on nearly 400. According to the most recent figures from the state of Pennsylvania, Butler County has 69 confirmed cases of coronavirus.
BHS administrators are working with those from Butler County and the Butler Area School District to prepare nearby off-site care facilities should they become necessary.
The post Number Of BHS Coronavirus Patients Holding Steady appeared first on ButlerRadio.com – Butler, PA.