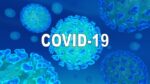 The number of new COVID-19 cases across the state as well as in Butler County continues to increase.
According to the Pennsylvania Department of Health on Wednesday afternoon, there are 849 additional positive cases of COVID-19, bringing the statewide total to 92,148. The total number of Butler County cases moves to 390. That's an increase of 20 compared to Tuesday's figures. A total of 50 new cases have been identified since Sunday.
As of Wednesday morning, the Butler Health System reports that three patients are being treated for COVID-19 symptoms at Butler Memorial Hospital with no one in the ICU. The number of people with a Butler County residence who have died as a result of COVID-19 is steady at 13.
Governor Tom Wolf is expected to announce additional restrictions that could affect Butler County residents. All 67 counties in Pennsylvania continue to report having cases of COVID-19.
The post Number of New COVID Cases In Butler County Continues To Surge Wednesday appeared first on ButlerRadio.com – Butler, PA.