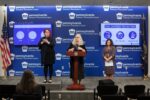 All residents and staff at nearly 700 skilled nursing facilities across the state have been tested at least once for COVID-19 since the beginning of June.
"This was an essential step to ensure that we further protect residents and staff within these vulnerable communities," state Secretary of Health Dr. Rachel Levine said. "Our goal with implementing universal testing in nursing homes was to rapidly asymptomatic residents and staff to prevent further spread."
With the completion of these screenings, Levine says that facilities are one step closer to being able to permit safe visitation, communal dining, and activities.
Approximately 84,000 Pennsylvania residents currently live in nursing homes in addition to the many staff members necessary to support them. Levine emphasized the importance of ongoing testing and pledged to make the necessary resources available.
"Through our partnership with CVS Health, we will continue to provide nursing home facilities with access to testing services with no costs," Levine said.
In the most recent report, 13 facilities in Butler County have reported a total of 21 cases among residents as well as 15 cases among employees with a total of two deaths.
The post Nursing Home Testing Complete In PA appeared first on ButlerRadio.com – Butler, PA.