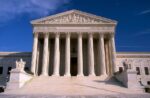 Politicians from Pennsylvania are offering their thoughts on the newly nominated Amy Coney Barrett for the Supreme Court.
And the opinions largely fall on party lines, as Republican Senator Pat Toomey said he was pleased with Barrett's nomination citing her strong legal credentials and impeccable character.
Representative Mike Kelly also was supportive of the pick, calling Barrett the "right choice" for the court.
Meanwhile, Democratic Senator Bob Casey said he cannot support a judge like Barrett who he believes will overturn the Affordable Care Act.
The post PA Politicians Offer Reaction To Supreme Court Nominee appeared first on ButlerRadio.com – Butler, PA.