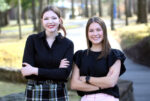 A pair of Butler County Community College students is receiving full scholarships to four-year universities after high levels of academic achievement.
Olivia Collins of Butler and Maddison Tripp of Sarver were named to BC3's honors list since the fall semester of 2021 and will be honored next week in Harrisburg as part of Phi Theta Kappa's All-Academic Team.
In addition to receiving the recognition, the two were named winners of full scholarship to a Pennsylvania State System college.
Collins will be transferring to Slippery Rock University to finish her academic career.
Collins is a 2021 graduate of Butler Senior High School and will transfer to Slippery Rock University. She plans to graduate from BC3 in May with an associate degree in business administration and with a certificate in accounting. Collins intends to pursue a bachelor's degree in accounting toward a career as a certified public accountant.
"I would love to help people with their taxes and their finances," Collins said.
Tripp is going to Indiana University of Pennsylvania.
Tripp is a 2021 graduate of Armstrong Junior-Senior High. She expects to graduate from BC3 in August with an associate degree in general studies and intends to pursue a bachelor's degree in speech language pathology and hopes to become a speech language pathologist.
"I want to be able to make a difference in the lives of those living in my community with speech and swallowing disorders," Tripp said. "I want to help them to reach goals that will improve their self-esteem and their overall quality of life."
The pair also serve as officers in Phi Theta Kappa; which is an academic honor society for community colleges.
The post Pair Of BC3 Students Receive Full Rides To State University appeared first on ButlerRadio.com – Butler, PA.