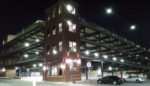 Butler City Council members met Thursday morning as the city faces an estimated $2 million worth of repairs in the parking system.
The main discussion centered around how the city would pay for the repairs.
"You can't sit there and wish for the fairy godmother to come in the form of the federal government and give us all this money," Councilman Bob Dandoy said. "How are we going to do this in-house? What are the loans and grants available to us? Where do we go to make sure this problem gets addressed?"
Council discussed options like taking out loans, selling individual units, or increasing rates as a way to pay for the repairs.
Council members also are looking at the possibility of adding more pay-by-phone parking areas—which utilize the app Pango—in the city's parking lots.
"We have various areas where there are meters where very little money comes through," Walter said. "We could add Pango parking instead, where it's strictly pay-by-phone, and that would help increase money there."
Not all metered parking would be eliminated, but council would hope that the additional revenue could help pay for parking renovations.
This comes as the city faces a loss in parking revenue.
"Up through March, the city was on record pace to make our budget numbers," Parking Manager Jim Chiprean said. "And then the coronavirus hit, and just like every other big city, we got hit."
The city transfers around $405,000 in yearly parking revenue into the general fund for the annual budget.
Council opted to look into getting a formal proposal from Pango detailing an expansion of kiosks and pay-by-phone parking would cost.
The council is also awaiting a report from City Engineer Joe Gray outlining a priority list of projects that need fixed.
The post Parking Repairs Center Of Council Special Meeting appeared first on ButlerRadio.com – Butler, PA.