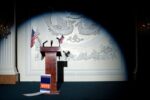 An upcoming webinar will focus on helping people run for local office.
The seminar is called "Toss Your Hat In The Ring" and it's designed for anyone interested in running for school board, borough council, or township supervisor.
The session features an overview of the local offices, the nuts and bolts of running for office, and discussion among elected officials about their experiences.
The webinar takes place four times:
Monday, Feb. 6th: 2-3:30 p.m. and 7-8:30 p.m.
Tuesday, Feb. 7th: 7-8:30 p.m.
Thursday, Feb. 9th: 2-3:30 p.m.
The registration fee is $25.
Sign up for the seminar here.
The post Penn St. Seminar Will Focus On Running For Local Offices appeared first on ButlerRadio.com – Butler, PA.