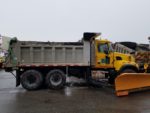 In honor of Women's History Month, women veterans now have a new way to be recognized for their service.
PennDOT has announced that Honoring Our Women Veterans license plates are available. This plate is available for passenger cars or trucks with a registered gross weight of less than 14,000 pounds.
Those interested in this plate can fill out an application and pay a fee of $37 with $15 going directly to the Pennsylvania Veterans Trust Fund.
The PA Veterans Trust Fund issues grants to charitable organizations and county agencies in order to help veterans with shelter, essential goods, and other services. Visit the VFT website for more information.
The post PennDOT Releases New License Plate appeared first on ButlerRadio.com – Butler, PA.