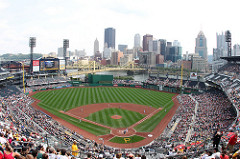 The Pittsburgh Pirates defeated the Baltimore Orioles 5-3 last night, in the final game this season at PNC Park. Nearly 25,000 fans attended the game. Rookie Josh Bell hit his 25th home run of the season. Bell had three hits and drove in three runs.
The Bucs begin the first of their final four games of the season tonight in Washington. First pitch is 7:05pm. Pre-game on WISR 680am will be 6:40pm. Ivan Nova will go to the mound for the Pirates for the final time this season.
The Chicago Cubs defeated the St. Louis Cardinals 5-1 last night, and with the victory,
the Cubs have clinched the National League Central Division title for the second year in a row. This is the first time the team has reached the postseason in three consecutive campaigns since 1906-08.
The Minnesota Twins have clinched the final American League Wild Card, and will face the either the New York
Yankees or Boston Red Sox in the A.L. Wild Card game.
In the National League, the Colorado Rockies now lead Milwaukee by two games in the chase for the final Wild Card. Their magic number is two.