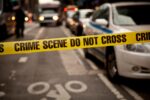 The death of a woman who was found along a bike trail in Venango County is now being treated as a homicide investigation.
This happened in the early morning hours of March 27th in Oil City according to our news partners at WPXI-TV.
Police say their investigation was carefully carried out and following the autopsy, officials upgraded the case to a homicide.
They did not identify the woman or say how she died. No suspects were identified either.
However, police are urging residents be cautious when using the bike or nature trails in the area.
The post Police Investigating Venango County Death On Bike Trail appeared first on ButlerRadio.com – Butler, PA.