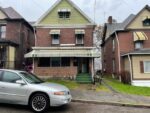 We're learning more about a heavy police presence last night at a home in the City of Butler.
According to witnesses, police were responding to a shooting at a house on College Street, near the intersection with Monroe Street.
One person was reportedly shot multiple times in the area. Other details surrounding the shooting, and the current status of the victim are not confirmed at this point.
We reached out to City of Butler police and are waiting to hear more.
The post Police Respond To Shooting On College St. appeared first on ButlerRadio.com – Butler, PA.