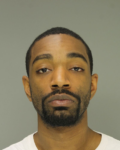 Butler City police are asking for help finding a man wanted on felony firearms charges following an incident last week.
City Police officers responded to the area of Pullman Park and Pillow Street Friday around 8:30 p.m. for reports of three men assaulting a female.
Police found three individuals including James Earl Howard-George who fled from officers. Howard-George abandoned a backpack and a loaded firearm which were recovered by police.
Howard-George was recently released and is on probation for his plea to crimes related to the Melissa Barto homicide case. Anyone with information about Howard-George is asked to contact the Butler City Police or call 911.
The post Police Search For Recently Paroled Man appeared first on ButlerRadio.com – Butler, PA.