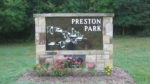 A recent theft from a vehicle in Preston Park has local police advising caution.
A guest to Preston Park reported to Butler Township Police that her purse was stolen on Tuesday sometime between 7:50 p.m. and 8:50 p.m.
The purse was taken from a tan 2004 Jeep Wrangler with a soft top as it was parked just off South Eberhart Road.
Anyone with information about this theft is asked to contact the Butler Township Police Department.
The post Police Warn Of Preston Park Theft appeared first on ButlerRadio.com – Butler, PA.