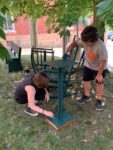 The Jeff Potter Baseball Tour is back in Butler this week to kick off their 11th year
The tour has evolved over time form a baseball event to providing a public service within the communities they visit over several states in a one month period.  The group of young people with the tour were in Alameda Park this week doing service projects.  They're expected to be in Freeport today and will return to Butler next Wednesday, July 15, 2020.
Normally, the Potter Tour tours with two groups of young people, but with the pandemic, they have only nine youth on the tour, which will stretch from Pennsylvania to Virginia.
Tour organizer, Coach Jeff Potter, says they are looking for outdoor projects and the offer is open to anyone needing some help.
Potter say, "There's always somebody who needs some help, especially with the situation this year and older people not being able to get out and take care of their yard and take care of things.  This is the exact type of thing we're looking to do.  We have a bunch of teenage kids and they love to work and they don't mind the physical work.  Anybody…this isn't closed to just certain people.  Just get a hold of us and we'd love to come down (to help)."
Potter's number is  410-562-4463 or you can visit their Facebook page (here) to get in touch.
(Px: Courtesy Jeff Potter Baseball Tour Facebook Page)
---
---
#baseball
#PotterBaseballSummerTour
#JeffPotter
#Butler
#serviceprojects
The post Potter Tour Back In Butler appeared first on ButlerRadio.com – Butler, PA.