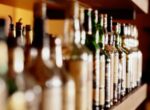 The price of some popular wines and spirits are on the rise.
The Pennsylvania Liquor Control Board announced last month that around 3,500 products would see a four percent increase in price starting this past Sunday.
The PLCB said inflation is the main reason to raise the price.
Critics of the price hike say that the board made the move without consulting all the stakeholders, including restaurant owners who have to purchase their liquor through the state system.
The post Prices At State Liquor Stores Going Up appeared first on ButlerRadio.com – Butler, PA.