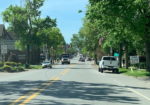 A project to improve and replace street lights along Main Street in the city of Butler is about to get underway.
During a meeting Thursday, Butler City Council approved entering into a contract with Bronder Technical Services of Prospect for just under $1.3 million. This bid was the only one the city received but council members said they were comfortable awarding the contract given the track record of projects delivered by Bronder for the city in the past.
The project will include replacing the existing lights on Main between Wayne and Penn streets with LED lights.
Funding is coming from the Butler County Infrastructure Bank.
Preliminary work begins Friday and the project should be finished around the end of the year.
The post Project Will Replace Main Street's Lights appeared first on ButlerRadio.com – Butler, PA.