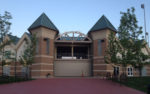 With Major League Baseball looking to speed up games this season, the City of Butler Parks, Recreation Grounds, and Facilities Authority has approved a policy change that would encourage some local teams to do the same.
The Authority board approved a proposal made by Director of Facility Operations Dean Selfridge Jr to modify the field rental lease at Michelle Krill Field at Historic Pullman Park to include limits on the length of time a game can take.
High school games that are mostly played on weekdays and are seven innings long now have a maximum time of two hours.  College games, played mostly on weekends, are nine innings with a maximum time allotted of three hours.
The participants in any games that go over these times will be charged an additional $90 for each hour they exceed that limit. The Authority is not taking this action with the goal of making more money. Instead, they would like to encourage teams to move their games along so that other teams with later field reservations are not held up.
The post Pullman Park Implementing Time Restrictions On Games appeared first on ButlerRadio.com – Butler, PA.