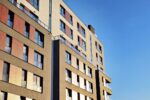 A new program will help households who weren't able to pay rent because of the financial impact of the coronavirus.
Butler County Commissioners moved to adopt the Rent Relief Program, which is supported by the federal CARES Act.
The program pays rent for tenants who either lost their job or had a 30 percent reduction in income because of the coronavirus.
The request for payment can be made by landlords or tenants, but the maximum monthly amount that can be paid is $750.
Those interested should contact the Housing Authority of Butler County.
The post Rent Relief Program To Aid Renters And Landlords appeared first on ButlerRadio.com – Butler, PA.