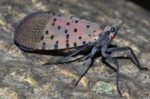 A local lawmaker is teaming up with a Democratic colleague from New York to emphasize the need to guard against a dangerous pest.
Republican U.S. Congressman Mike Kelly of Butler recently sent a letter to U.S. Department of Agriculture's Animal Plant Health Inspection Services concerning the spread of the Spotted Lanternfly.
Kelly points to the importance of agriculture to the region's economy as well as the damage that this insect is able to cause. The letter requests that the Department of Agriculture take immediate action through a comprehensive strategy in coordination with state and local officials.
Spotted lanternflies are not known to bite, sting, or attack humans or animals but it can kill grape plants and especially feeds on a weed tree known as "tree of heaven". Residents are urged to kill this insect.
The post Rep. Kelly Joining Push To Control Spotted Lanternfly Spread appeared first on ButlerRadio.com – Butler, PA.