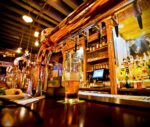 Restaurant and bar owners are set to testify before Pennsylvania House Republicans on Tuesday.
They are expected to explain how hard Governor Wolf's latest restrictions are hurting their industry.
The new rules have impacted restaurants locally—Judy Feree is the owner of the Hotel Saxonburg.
"It's not as difficult as it was in March," Feree said. "I think I'm starting to get more accepting, maybe a little bit numb to the stress it causes."
"I'm trying to look at it positively and trying to think ahead so I'm ready to react when things happen," Feree added.
The new rules put in place include 25 percent capacity limit, no bar service, and food must be ordered with every meal.
But, Tricia Christy of W. Rick's in Meridian says that restaurant owners have to be prepared for things to change quickly in this environment.
"We just have to adapt and get a new routine every time they throw restrictions our way," Christy said. "We do the best we can. I have a great bunch of employees and we all sit down and brainstorm together."
Wolf has advocated for Congress passing a restaurant relief bill.
The post Restaurant And Bar Owners Plead Case To PA Lawmakers appeared first on ButlerRadio.com – Butler, PA.