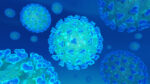 The Butler Health System has provided another update regarding the spread of the coronavirus.
As of 10am Saturday, Butler Memorial Hospital is treating seven patients with COVID-19 symptoms, six of the patients have tested positive and 1 is suspected to have coronavirus. Clarion Hospital has two patients that tested positive with COVID-19.
The post Saturday 5/2 Coronavirus Update appeared first on ButlerRadio.com – Butler, PA.