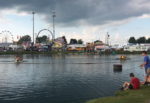 Yet another popular local event has been added to a growing list of cancellations as a result of the COVID-19 pandemic.
The Saxonburg Volunteer Fire Company has announced that the 89th annual Saxonburg Volunteer Fireman's Carnival planned for July 14th to 18th has been canceled in the interest of community health and safety.
This cancellation includes all Carnival Week parades and pageants as well as daytime and evening events. Organizers expressed their disappointment along with looking forward to the 90th anniversary of the event planned for 2021.
The Community Day scheduled for July 13th has been postponed pending further review of public health authority recommendations about public gatherings. Additional information about that event is expected to be available in the coming weeks.
---
The 72nd annual Butler Farm Show is still moving forward this year as scheduled August 10-15 but some modifications will be put into place.
Organizers emphasize that the health and safety of the public, participants, exhibitors, employees, and volunteers remains the top priority so these plans could change based on guidance from the CDC and state agencies.
No definitive details about what specific modifications will be put into place but organizers will attempt to minimize disruptions to normal operations as each aspect of the Farm Show is seriously evaluated to safely accommodate everyone involved.
Even though farmers and agrotourism are facing multiple challenges in the current public health situation, Farm Show organizers remain committed to providing a fun, family event this year.
The post Saxonburg Carnival Announces Cancellation While Butler Farm Show Still Plans To Continue appeared first on ButlerRadio.com – Butler, PA.