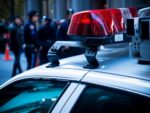 Normally Christmas trees are used to celebrate the season, but a Saxonburg man was taken to jail for using his tree as a weapon.
State police say they were called to a home on Oak Leaf Drive this past Tuesday night in Jefferson Township for a dispute.
The fight began as a verbal altercation, but soon became physical. That's when police say 35-year-old Michael Bandi hit a 31-year-old woman in the head with a Christmas Tree.
Police arrested Bandi and he was taken to the Butler County Prison.
The post Saxonburg Man Assaults Woman With Christmas Tree appeared first on ButlerRadio.com – Butler, PA.