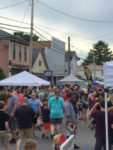 More events in Saxonburg are being canceled because of the coronavirus.
The Saxonburg Borough Council decided Tuesday evening to cancel both the Mingle on Main events this summer along with the annual Festival of the Arts in September.
In past years, Mingle on Main was held once a month along Main Street in Saxonburg.  It was an outdoor gathering of the community to enjoy area businesses, vendors, and food trucks that would park along Main Street.  Typically the streets would be full of individuals enjoying the event that would last a couple of hours. There were times when a string of tables were set up in the middle of Main Street in Saxonburg for those to dine together.
As for the Festival of the Arts, that event has been happening for many years. It typically spans the length of Main Street in Saxonburg and down North Rebecca Street to Roebling Park.  Other vendors were also set up in Cooper's Hall behind the Saxonburg Museum.
As for the decision to cancel these events in 2020, council members say they want to ensure the health and safety of their residents.
---
---
#ButlerRadio
#butler
#saxonburg
#events
The post Saxonburg Cancels Events – Included Festival Of The Arts appeared first on ButlerRadio.com – Butler, PA.