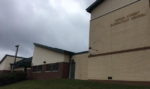 Butler Area School District is working to prepare their Broad Street School facility for use by the Butler Health System and local residents if needed.
Butler Superintendent Dr. Brian White:
"School District personnel are currently cleaning and bringing that building back online. As you know, that building has been closed. We are reestablishing internet connections. We are making sure all of our utilities and HVAC systems are working properly. We had been using the building for storage so we have been in the process of clearing out that space for them and making some minor modifications to fit their needs."
Butler Health System President and CEO Ken DeFurio expressed appreciation for the help and support given to BHS by the Butler County Commissioners and the Butler Area School District during this crisis.
According to White, school buildings are community facilities and they can be used in whatever way is needed in order to benefit community members.
"We are a political subdivision of the state and get state funding and as such, if the county needs our facilities in a disaster, we are compelled to work with them, not that we wouldn't anyways. The facilities exist to be schools but they also exist for the community in times of crisis."
White also said that the district will apply to receive reimbursement for the cost of the work being done on Broad Street when such funding becomes available.
Butler Health System officials also said that the Benbrook Ambulatory Surgery Center will be used as a backup facility if there is a significant surge in coronavirus cases.
The post School District Personnel Ready Broad Street School After County's Request appeared first on ButlerRadio.com – Butler, PA.