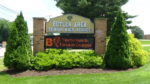 Students in the South Butler School District are asked to start working on the 10 days of material prepared for them beginning today.
Most of this material can be done without the involvement of a teacher but any students who have questions or need help should contact their teachers by email or through Google Classroom.
Families should hold on to the completed hard copy for now. More information will be sent out about how the work will be assessed. Families without technology or internet service are asked to contact the district for assistance.
Faculty members are working on strategies to provide online instruction once those 10 days are done. Meals will continue to be provided Mondays and Thursdays with pickup at the South Butler Primary Center front doors.
Meanwhile, the Butler Area School District will also begin remote instruction today.
Students are asked to complete various activities on the school district's website.
WISR 680 AM will also be airing on-air classrooms all this week, in which teachers will provide instruction and information on the radio. You can listen to the broadcasts here.
That program will air from 9 to 10 a.m. each weekday.
The post School Districts Begin Remote Instruction appeared first on ButlerRadio.com – Butler, PA.