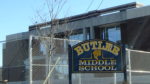 All schools across Pennsylvania are now closing their doors for the rest of the academic year.
"We must continue our efforts to mitigate the spread of the virus during this national crisis," Governor Tom Wolf said. "This was not an easy decision but closing schools until the end of the academic year is in the best interest of our students, school employees and families."
Secretary of Education Pedro Rivera said the administration made the decision based on the health and safety of the students and community.
"While the rapidly evolving COVID-19 pandemic and its mitigation efforts have created uncertainty in our schools and communities, today's action to close schools for the remainder of the academic year provides school communities with predictability and understanding of the conditions under which they'll be operating and serving students," Rivera said. "As schools and communities adapt to the prolonged school closure, PDE will continue to work with our state, educational, and business and nonprofit partners to meet the needs of students."
Wolf had ordered schools closed indefinitely late last month.
Schools have now moved to remote instruction for their students—and that will continue until the academic year comes to a conclusion.
The post Schools To Close For Rest Of Academic Year appeared first on ButlerRadio.com – Butler, PA.