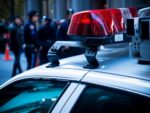 Law enforcement says there have been multiple reports of fake active shooting alerts sent to districts all across Pennsylvania.
State police say the incidents started to happen around 8 a.m. this morning after many districts across the state in different counties starting receiving alerts about a possible active shooter.
These incidents were spread around in all parts of the state, including in Western Pennsylvania. Schools such as Central Catholic in Allegheny County went on lockdown. So far, all these incidents were identified as hoaxes.
According to law enforcement, this is known as "swatting," which generates an emergency law enforcement response against a target victim under false pretenses.
Local state police issued a statement saying that "all calls received by Troop D stations have been investigated and found to have no merit."
The FBI has also released a statement saying "while we have no information to indicate a specific and credible threat, we will continue to work with our local, state, and federal law enforcement partners to gather, share, and act upon threat information as it comes to our attention. We urge the public to remain vigilant, and report any and all suspicious activity and/or individuals to law enforcement immediately."
It does not appear at the moment that any school districts in Butler County were targeted. But, out of an abundance of caution the schools will be enhancing surveillance throughout the rest of the school day.
The post Series Of Fake Shooting Alerts Happen Throughout Pennsylvania appeared first on ButlerRadio.com – Butler, PA.