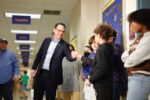 Governor Josh Shapiro was in Pittsburgh earlier this week touting a part of his budget plan that he believes will help recruit more teachers.
Shapiro says his plan for teachers is similar to the one for police officers. That is to provide a personal income tax credit of up to $2,500 for up to three years.
He says the state needs to come up with ways to recruit teachers because Pennsylvania is facing a workforce shortage.
"Ten years ago the Commonwealth of Pennsylvania certified 20,000 teachers that year. Last year, we certified just over 6,100 teachers. So at the same time while the needs are greater, the pipeline is shrinking," Shapiro said.
Shapiro says nearly half of all districts in the state had open positions for teachers at the beginning of this past school year.
The post Shapiro Targets Tax Breaks For New Teachers appeared first on ButlerRadio.com – Butler, PA.