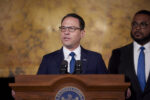 Incoming governor Josh Shapiro will be taking the oath of office later today.
Shapiro will be sworn-in as the 48th governor of Pennsylvania at noon.
He will be taking the oath of office on three bibles that he says are significant to him: a personal family bible, a Hebrew bible from the Tree of Life Synagogue, and one from a Philadelphia veteran who carried the bible with him while serving in World War II.
New lieutenant governor Austin Davis will also be sworn-in later today.
The post Shapiro To Be Sworn-In As Governor appeared first on ButlerRadio.com – Butler, PA.