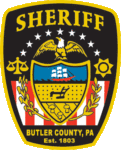 The Butler County Sheriff's Office is alerting residents about a scam that has been recently reported.
A Sheriff's Office representative told our newsroom that calls are being made using a number that looks like it is from the Sheriff's Office and the caller claims to be Deputy Michael Smith. The caller then asks for money over the phone as a result of outstanding warrants.
There is a Deputy Michael Smith at the Sheriff's Office but he is not making calls asking for money. No one with the Sheriff's Office or any other legitimate law enforcement officer will ever ask for direct money payment over the phone.
Anyone who receives a questionable call should try calling the Sheriff's Office directly or visit in person to verify the accuracy of this request.
The post Sheriff's Office Warns Residents of Scam appeared first on ButlerRadio.com – Butler, PA.