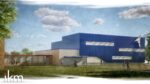 With a new school year less than a month away, crews at the Butler Senior High School continue to make progress even as materials delays result in additional expense.
The Butler Area School District Board of Directors heard an update Monday night from the district's construction manager on the Auxiliary Gym project as well as the classroom expansion project.
The Auxiliary Gym addition is mostly done with the exception of flooring but change orders totaling nearly $10,000 were necessary to modify roofing and an additional wireless access point.
The Board also approved change orders for the classroom expansion including thicker concrete, moving water fountain locations, and adding power for locker room hand dryers totaling around $18,000.
Work on the classroom addition is expected to continue into the fall but crews are working with administrators to have areas needed for instruction ready for students and staff in the next few weeks.
The post SHS Auxiliary Gym Near Completion; Expansion Project Ongoing appeared first on ButlerRadio.com – Butler, PA.