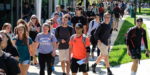 As colleges in the State System of Higher Education face declining enrollment this fall, Slippery Rock University is bucking the trend.
SRU is seeing its enrollment of first year students slightly increase from last year—and chief enrollment management officer Amanda Yale truly does mean slightly.
"We're pretty much staying stable, but we are up by five students," Yale said while chuckling. "We're at 1,586 students for this fall compared to 1,581 students last year."
"Overall we're pretty pleased, but we're not resting on our laurels."
Slippery Rock had to adjust their admissions process for prospective students—making it an entire virtual experience. But Yale says students and parents have responded positively.
"You can never replace face-to-face interactions, but the parents and students are really doing a great job not only in participating and attending; they're also asking great questions and following up with individuals sessions," Yale said.
Yale added that she believes the Slippery Rock virtual orientation and tours available on their website are "second-to-none."
Student retention rates at Slippery Rock are also slightly ahead from last year.
Freshmen into Sophomore: 83% retention rate compared to 82.4% in 2019.
Sophomore into Junior: 72.7% retention rate compared to 71% in 2019.
Junior into Senior: 65.2% retention rate compared to 66.3% in 2019.
Some schools across the state are facing significant declines in first year student enrollment, like Bloomsburg in central PA; which is down nearly 20 percent compared to last year.
The post Slippery Rock Enrollment Slightly Up For Fall appeared first on ButlerRadio.com – Butler, PA.