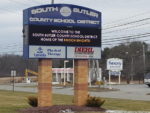 The South Butler County School District has approved a Phased Reopening Health and Safety Plan that would see students only travel to school for in person classes two days each week.
Superintendent Dr. David Foley acknowledges this plan is likely to change and evolve before it would ever be implemented.
"The idea was that the same group of students would go Monday and Tuesday. Then the cleaning day would be Wedensday. And then the next group would come in on Thursday and Fridays," Foley said. "I think where we came to an understanding is that seeing a teacher more frequently is important. So it was the two days together, a break, and then two days for the second group."
The school board approved this plan by a vote of 7-2 after several parents voiced concerns in the online meeting about difficulties families could have with the modifications.
According to Foley, this plan, along with one for resuming extracurricular activities, was made with input from over 50 teachers and staff members but a survey for parents with additional details will be sent out soon to receive feedback.
"It brings us strong feelings on both sides of the issue, and I understand that because I sit here through it all day long and trying to figure out how this is best fitting the needs of our kids," Foley said. "So please understand that this plan is going to evolve and it's all going to depend on the facts we have as we get closer to the school year."
On recommendation from administrators, the board also approved the purchase of Edgenuity and Compass Online Learning Curriculum at a cost of $35,000 to help teachers reinforce necessary skills through distance learning.
The post South Butler Reopening Plan To Send Students To School Two Days Per Week appeared first on ButlerRadio.com – Butler, PA.