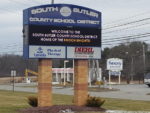 Starting this school year, the South Butler County School District will be utilizing metal detectors in each of the district's four school buildings.
The district has purchased nine portable detectors. Two will be placed at the main doors at the high school, two at the main doors of the middle school, and two at the gymnasium doors facing Knoch Road. All secondary students will be required to enter the school at these doors each school day.
Trained staff members will search bags as students pass through. Procedures will be followed should the system detect students with metal in their possession.
At both the South Butler Primary and South Butler Intermediate Elementary schools, one metal detector will be placed in each of the captured entrances. Although elementary students won't be required to pass through the detectors on a daily basis, random use of the detectors at the elementary buildings will occur.
Any adults entering any school building- including the elementary school- will be required to pass through a detector and have their bag searched.