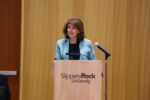 Although she's still months away from officially beginning the job, the new Slippery Rock University president was on campus yesterday for a formal greeting to the community.
Dr. Karen Riley was introduced as the 18th president of Slippery Rock University and said she's excited to get started.
"It is my honor, and will be my honor, to serve as your next president. I'm both excited and humbled by this opportunity. I look forward to working with the students and faculty at Slippery Rock, and to advance its impressive history and to build on its previous success," Riley said.
Riley is also looking forward to working with the Pennsylvania State System of Higher Education and wants to build upon SRU's success in the system.
"I see the strength of the system as a goal for us. I see we are one and two with West Chester, and I'd prefer we were number one in everything from now on," Riley said.
Riley says it's important to be forward thinking when it comes to how the university positions itself in the future.
"I think our jobs are to facilitate growth for people along the entire human development pathway," Riley said. "If we think about our job that way, then we are not bound by degrees, credentials, or certificates. We are bound by what does society need and how can we help it grow."
Riley will officially start her role as president on July 1st replacing Dr. Bill Behre.
The post SRU Introduces New President appeared first on ButlerRadio.com – Butler, PA.