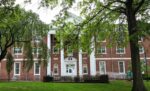 A professor at Slippery Rock University is being given new administrative responsibilities for the upcoming year.
SRU recently announced that Dance professor Ursula Payne will serve as interim associate provost for the upcoming 2022-23 academic year.
Beginning July 18th, Payne's duties will include academic planning and oversight assessment along with accreditation and grants activities. Payne has been a member of the SRU faculty since 1996 and has served as Chair of the Dance Department from 2011 through 2020. She was also the diversity liaison officer to PASSHE last year.
Payne will report to interim provost Michael Zieg who was named to that position in May.
The post SRU Names New Interim Assc. Provost appeared first on ButlerRadio.com – Butler, PA.