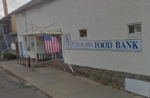 St. Vincent de Paul says the number of families they are feeding is on the rise, while at the same time their organization has some concerns.  Jerry Harrison, the chair of St. Vincent de Paul, said they may see numbers that they haven't seen before.
Their food bank will remain open Monday through Friday from 8AM-11AM. Harrison stresses that any food donation is much needed at this time, although there is another great need. They need cash donations in order to purchase the large volumes of meat, produce, and poultry.
St. Vincent is also asking for volunteers who are outside of age population that is of most concern at this time.  Many of the food bank's volunteers are seniors. The average age of the current food bank employees is over 65 year old.  They are hoping to get some young volunteers like college students or high school students who may not be at such a high risk and get help in handing out the food.  The food will be given out via a drive-though style.
You can drop off donations at their warehouse at 146 North Monroe Street in Butler.  A Facebook page has been set up (SVDP Butler) and will be updated often.
Listen to the entire interview with St. Vincent de Paul below.
The post St Vincent de Paul – Help Needed – Numbers On The Rise appeared first on ButlerRadio.com – Butler, PA.