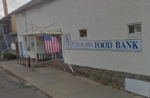 St. Vincent de Paul will be reopening today, June 6, 2020. 
They're expected to resume normal hours as of this week.  That would be Monday-Friday from 8:30am-10am.  
The organization temporarily closed their doors last Tuesday, June 30, 2020, out of an abundance of caution after a family member of a volunteer was possible exposed to COVID-19.  At that time, officials with St. Vincent de Paul said the individual had not been on site for at least a week.  
They wanted to make sure the location was safe for all customers and workers.  
---
---
#foodbank
#StVincentdePaul
#Butler
#reopening
The post St. Vincent de Paul to Reopen appeared first on ButlerRadio.com – Butler, PA.