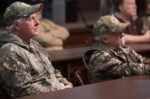 The Pennsylvania Game Commission is alerting hunters about the new process available for applying for an antlerless deer license.
After a new law took effect earlier this month, hunters can purchase antlerless licenses through all licensing issuing agents as well as online beginning with the 2023-24 licensing year.
The Commission gave preliminary approval to a process that includes residents able to apply for one license the 4th Monday in June, nonresidents able to apply in July with residents able to get a second license, followed by a third round in August. A hunter could buy additional licenses up to a limit of six. A vote for final adoption of this procedure is planned for the Commission's April meeting.
Previously, hunters had to send paper checks through the mail to county treasurers who were the only entity permitted to sell the licenses.
The post State Details Changes to Antlerless Deer License Sales appeared first on ButlerRadio.com – Butler, PA.