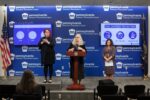 The state Department of Health will be providing more in-depth data when it comes to COVID-19 inside long-term care facilities.
"If someone who resided in that nursing home died from COVID-19, we will be informing the public about their death in two different places on our website, " Secretary of Health Dr. Rachel Levine said. "Now that's not being double counted, but we're reporting it in two different ways to relay both of those pieces of information."
Levine says that the resident's death will be added into their county of legal residence—but that might not be where the nursing home is located.
The other piece of data will help break down more specifics about those who have died from the virus.
"We've worked to add more information to demographics to people who have died from COVID-19," Levine said. "We've broken down the data to include things like race, gender, ethnicity, age, and their comorbidities."
In depth data can be found on the health department's coronavirus page.
The post State To Provide More Data On COVID-19 Deaths appeared first on ButlerRadio.com – Butler, PA.