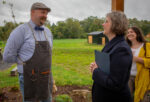 While some prefer to hit the nature trails to get a look at the fall foliage, those who are looking for a more delicious adventure, need look no further than four new Pennsylvania Culinary Trails.
The state's Tourism Office is launching Picked: An Apple Trail, Baked: A Bread Trail, Chopped: A Charcuterie Trail, and Pickled: A Fermented Trail.
Each trail has four to five clusters of local farms, artisans, and other food businesses separated by region that can be completed during a three day road trip. First Lady Frances Wolf explains the importance of food:
"Food also tells a story. It describes where we came from, it describes the people and places that influenced our lives. It also describes our forbearers and celebrations that are important to us," Wolf said. "Each culture and community has its own distinctive character; and nowhere is that character highlighted than the food that's prepared for those meals."
These trails are in addition to the popular Ice Cream and Maple Trails launched in past years. Participants can get a passport for the trails, which could result in prizes. More information is available through the website of the Department of Community and Economic Development.
The post State Unveils Four New Food Trails appeared first on ButlerRadio.com – Butler, PA.