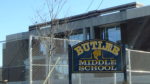 Teachers at the Butler Area School District will be presenting lessons for students on WISR beginning Monday morning.
The lessons will be offered each weekday on WISR beginning with lessons for secondary students from 9 to 9:30 a.m. followed by a half hour for elementary students from 9:30 to 10 a.m.
"I think this is a first step for us, it's a good place for us to get teachers to communicate with students at least in one direction," Butler Area Superintendent Dr. Brian White said.
"Everyday that we're not engaging kids in learning, it becomes more difficult to reestablish some normalcy," White said.
According to White, each day will focus on a different subject area for the elementary kids.
"Monday the plan is math, and Tuesday is STEM and science. We'll have a wacky Wednesday which will focus on Dr. Seuss, and Thursday we'll be covering social studies material. And then Friday will be a connection of the whole week of lessons," White said.
Students will be able to access this instruction either by tuning an AM radio to 680 or online through butlerradio.com by clicking the "Listen Now" tab and then selecting WISR AM 680.
#ButlerRadioNews
#education
#ButlerAreaSchoolDistrict
#onlinelearning
The post Teachers To Give Educational Lessons On WISR 680 AM appeared first on ButlerRadio.com – Butler, PA.