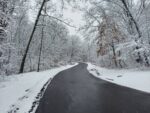 Overnight lows will be either near zero or below for the next couple of days in Butler County.
According to the National Weather Service, it's expected that Thursday night will reach a low of zero and Friday night will be at -3. Wind chills will make it feel even colder as a northern breeze will be present for most of the next two days.
Officials say to make sure that you are taking the necessary precautions in order to deal with the colder weather. They encourage everyone to dress in layers when they leave the home, and to cover any exposed skin. That means wearing gloves and hats to keep you warm.
There's a slight rebound expected over the weekend, as temperatures will be in the 20s and overnight lows will be closer to 10 degrees. There's also a chance of snow showers hitting the area Sunday evening.
The post Temps Dropping For Cold Stretch appeared first on ButlerRadio.com – Butler, PA.