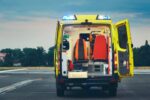 Three people were hurt in a crash last week at a busy intersection in Butler Township.
According to Butler Township Police, 51-year-old Lisa Woodbrey of Butler allegedly ran a steady red signal of New Castle Road and North Duffy Road last Friday afternoon around 1:30 p.m.
This caused a collision with an SUV driven by a woman from Texas.
Woodbrey and her passenger both reported chest pain while the woman from Texas reported an arm injury. All three motorists were taken to Butler Memorial Hospital for additional treatment.
Both vehicles had to be towed from the scene.
The post Three Injured After Woman Runs Red Light appeared first on ButlerRadio.com – Butler, PA.