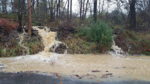 Thursday's weather caused some issues around Butler County.
Wind brought down a few trees and power lines in various parts of the county.  Some debris from tress were on the roadways as well.  A tree reportedly fell on a car in Marion Township.  No one was in the vehicle.  As of Friday morning, crews continued to work around the county to maintain safe travel for morning commuters.
Rain also resulted in flash flooding and high water in many locations Thursday.   Most of the high water was visible during the mid to late afternoon when the bulk of the heavy rain fell.  Among the areas reported with high water were sections along Rockdale Road in Penn Township, some roads in Clinton Township, parts of Evans City Borough, and along Connonquessing Creek in Renfrew area.
Written by: Tracey Morgan
Photos from Clinton Township, Butler County
#butlerradio #butlerradionews #insidebutlercounty
The post Thursday's Weather Caused Some Issues appeared first on ButlerRadio.com – Butler, PA.