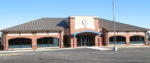 The Butler Transit Authority is welcoming another new Director to their board from outside the City of Butler and Butler Township.
Tricia Kradel was appointed to a five year term on BTA by the Butler County Commissioners last month. Butler Township and Butler City formed the Authority in 1989 but the county assumed control in early 2018.
One of the reasons why the County took over the authority is to expand local public transportation options beyond the center of the county. Kradel is a Center Township native and resident. She has worked at Sunnyview for the past 14 years.
Kradel replaces longtime Transit Authority Board member Joe Grey. Jackson Township Manager Chris Rearick was appointed in 2020 as the first new board member from outside of the City of Butler and Butler Township.
The post Transit Authority Appoints New Board Member appeared first on ButlerRadio.com – Butler, PA.