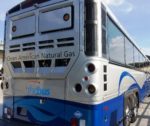 The Butler Transit Authority is revising a few of their policies in order to better address riders who are causing a disturbance.
At their meeting earlier this week, the Authority's board of directors approved minor changes to the Exclusion of Service and Disruptive Passenger Policy as well as the of Conduct and Trespass Policies.
The changes give authority to bus drivers who are employees of Authority subcontractor MV Transportation to issue temporary bans to riders who are causing a problem. Previously that process had to go through the authority and it often took several days to complete.
Now, drivers are able to issue a three day ban by giving notice directly to riders at the time of the disruption with additional action by the authority to follow if necessary.
The post Transit Authority Updates Policy To Deal With Unruly Riders appeared first on ButlerRadio.com – Butler, PA.