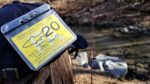 Today officially kicks off the beginning of trout season in Pennsylvania.
Officials at the PA Fish and Boat Commission made the decision to move forward with trout season after consultation with various state agencies.
All licensed anglers and youth are allowed to begin fishing for and harvesting trout with the typical regulations still applying.
The commission says that all anglers and boaters must abide by the social distancing guidelines outlined by the CDC and the Governor's office.
"We realize that this announcement is another disruption to tradition, but it is in the best interest of public health and safety," said Tim Schaeffer, PFBC Executive Director.
"We have already seen that anglers and boaters across the Commonwealth are willing to adapt their behavior to include social distancing, and we ask everyone to follow their lead while enjoying outdoor activities during this challenging time. The trout we have been stocking have had time to spread out, and so should you."
The post Trout Season Begins Tuesday Despite COVID-19 Pandemic appeared first on ButlerRadio.com – Butler, PA.