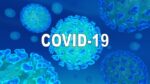 There were seven new COVID-19 cases Tuesday for Butler County.
The daily report also saw 112 negative tests, resulting in a 5.9 percent positivity rate today.
As of Monday morning, Butler Memorial Hospital was treating seven patients for the coronavirus, although no one was in the ICU.
State Secretary of Health Dr. Rachel Levine says the increase in cases across the state is being driven by younger people.
"Throughout the state, we are seeing an average of about a 19 percent increase in 19 to 24 year-olds since April," Levine said.
Slippery Rock University is reporting 26 new cases over the last seven days, and 70 total since the start of school.
Just over 1,100 new cases, six new deaths, and around 11,000 negative tests were reported for the state.
The post Tuesday Update: Seven New Cases appeared first on ButlerRadio.com – Butler, PA.